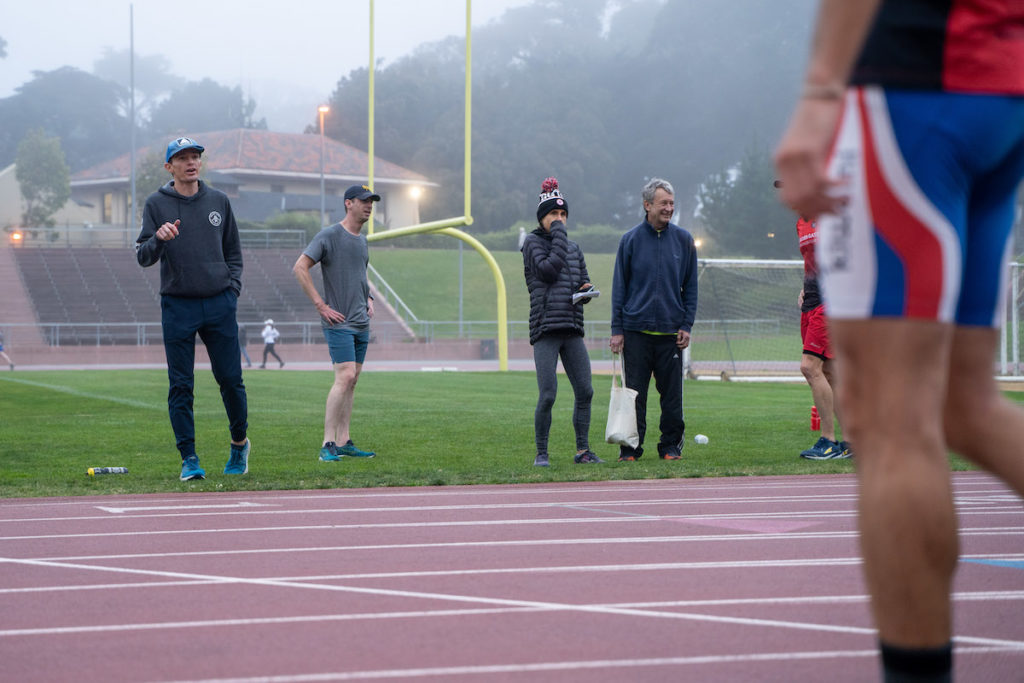 I am not taking on any new 1-on-1 athletes at this time; however, individual consultations are available by telephone or video chat if you have developed your own training program and would like input on how to improve it or tweak it in accordance with your training and racing goals. Assistance is also available for goal-setting strategies, developing a cross-training routine, advice on returning to training after an injury, race-nutrition practices and peaking for a key race. The cost is $250/hour. Email me to set up an appointment.
My background:
Since 2004 I've been helping athletes reach their goals, which have ranged from first finish lines, personal bests, and Boston Marathon qualifying times to Marathon Majors age-group wins, national titles, Olympic Trials appearances, international podiums, world championship teams, national records, and the Olympic Games. I've been leading the Golden Gate Triathlon Club's running program since 2016, and have also served as the head coach for the Prado Women's Racing Team (2011-2014) and the San Francisco Running Company Racing Team (2014-2020).
Over the course of my own competitive running career I've been fortunate to train under some excellent coaches—namely Karen Boen, Kevin Curtin, and Alan Culpepper—whose influence inspired me to help others work toward their own goals. I'm also grateful to have had the opportunity to spend time with and learn from some of the top minds in the sport, including Joe Vigil, Frank Gagliano, Terrance Mahon, Greg McMillan, Diljeet Taylor, Mike Smith, and many others. In addition to my 18 years of ongoing coaching experience, I produced, assigned, and managed training-related content for Competitor magazine/.com (which became PodiumRunner and is now Outside Run) from 2010-2016. I also wrote about run training for Triathlete magazine's On The Run column from 2009-2010. In 2013, I authored The Official Rock 'n' Roll Guide To Marathon & Half-Marathon Training. All of these endeavors have helped me expand my base of knowledge and hone my expertise.
It's the excitement of joining an athlete on the journey toward achieving their goals, helping them see what's possible if they stay on the path, and being there to celebrate the highs and help navigate the lows along the way that energizes me as a coach.
My philosophy:
I work according to each athlete's personality, goals, needs, background, and limitations. My first order of business as a coach is to get to know you and understand how this pursuit of competitive running fits into your life. I have an ongoing responsibility to do what I can to ensure that it's occupying a healthy space amongst everything else that's important to you. My commitment is to always be honest with you about where you're at and what you're capable of at any given time. My goal in working together is to help you achieve success, however we choose to define it, while finding enjoyment, education, and fulfillment along the way.
There's no one training system that will work for every athlete. At the end of the day, the Xs and Os of training shouldn't be a complicated equation. We work on strength, speed, and endurance to varying degrees throughout the year in an effort to make you a more well-rounded athlete. You have to put in the right volume and the right intensity, in the right doses, at the right time. Rest and recovery are a strategic part of the training process, not a punishment for doing too much or going too hard. The mix of volume, intensity, and recovery is going to be a little different for everyone.
At its core, coaching is a relationship between two people built upon a foundation of trust, communication, and collaboration. I view my role as that of a co-pilot: I'm an experienced passenger you've trusted to accompany you on your journey, advising you when to speed up or slow down, pointing out bumps in the road, and helping you navigate your way out of jams from time to time. I try to listen more than I speak. I'll analyze your data but I'll also ask you for input and feedback as we move forward. Data can help inform the discussion but the discussion is what drives our decisions. If I'm doing my job well, you'll have complete control of the wheel but also the trust that I won't steer you the wrong way.